Monday, August 01, 2005
Kayanernh-Kowa Lodge #219 Private Issue?
The item below recently surfaced on eBay. As Lodge 219 was not in existence in 1992 it is likely that the patch was issued in 2002 for the 10th Anniversary. Hiawatha Seaway Council has a William Hillcourt Museum located at their Camp Woodland. My research has so far shown that this patch was not issued nor sanctioned by the lodge. Any additional information on this issue would be appreciated. It is tentatively the 219YA1.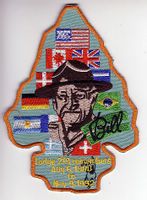 219YA1
Comments:
Hi Bill-
To the best of my knowledge, this patch is part of the "Marmaduke" collection issued throughout a number of years by James "Marmaduke" Seton (now deceased) of the Hiawatha Seaway Council. "Marmaduke" was a close personal friend of William "Green Bar Bill" Hillcourt and made this patch in honor of of Mr. Hillcourt. Marmaduke was a tremendous human being and is known for his Scouting Spirit and generosity. He often gave many of these patches away as gifts to young Scouts and many have tried to collect all of the "Marmaduke" patches Mr. Seton created throughout the years. You are correct. It is not an official lodge issue, however, it is a private issue created by one of Northern New York's most beloved Scouters.
Post a Comment
<< Home